Using a party planner is probably the best way to relieve stress and ensure that you allow yourself the opportunity to completely rejoice in the Simcha. But for most of us who do not have the luxury of hiring one, may I suggest that you look for the best value in planning your event.
Look for well known party professionals in the Twin Cities, who can lend their expertise and provide an invaluable resource of ideas, to help clarify and stimulate your imagination, refine your tastes, and help you discover your true vision.
While your Bar/Bat Mitzvah student is hard at work polishing his/her Torah portion, you are trying to put together a celebration that sends a message to your family and friends of what this simcha means to you. It's finally your turn!
.
.
Your son or daughter's accomplishments are on display for the world to see & you are the producer of this grand celebration to honor their efforts, talents, & dedication!
It's your turn to pray with, reflect with, learn with, teach, and entertain the most important people in your life.
Where do you start? Take inventory and make sure you know what you want.
What is important to you and your Bar/Bat Mitzvah? Make a list of priorities.
What is the message you'd like to share?
What is your vision?
Who
Determine the size of the celebration. Will you ask just family and congregation members? Will you include friends from school as well as his/her entire B'nai Mitzvah class? What about "Out-of-town" guests? Make a guest list, with help from your son or daughter, review it many times to be sure no one has been left out.
What
When determining your budget, be very clear about what's really important to you, along with what might make a great party. The party favors? The food? The music? The Mitzvah? Focus your attention and money on what you can't live without and prioritize the rest from there.
Where
Some venues add elegance to your affair; others help create that exotic flair for the festivities. With the right decorations, the JCC or your synagogue can be transformed into the most wonderful carnival. Each family sees the perfect banquet venue differently.
How
For informed choices, choose your party professionals from interviews and referrals.
The Twin Cities are filled with many passionate professionals available to enhance your simcha.
I recently had a conversation with Hillary Feder, who owns "Hillary's Gifts" in downtown Hopkins. She was brimming with pride as she spoke of what her store had to offer for the Bar/Bat Mitzvah. Her enthusiasm was simply contagious. When talking with Dale Moore, from Andon Design & Balloons, his excitement was palpable while sharing pictures of his creative work.
bar mitzvah entertainment at its best
It's easy to tell that Twin Cities simcha-planning professionals really enjoy what they do for a living. Once you are comfortable with them, let their confidence be your confidence. Allow them to show you the many options of what they've done for others. Then you can build on those ideas. If you have defined your priorities, you will be able to see what you're looking for in their work. If you don't see it, tell them. Know exactly what you want to achieve and what you envision for your party as the end result.
.
*Frames on this page are samples of Space Pix.
*Balloons & Personalized Candleholder are samples of Andon Balloons.
Bat Mitzvah picture courtesy of
Sue Lund Photography
Edward's pictures courtesy of Total Entertainment
& Edward Wasserman

Website produced by Total Entertainment Web Productions, webmaster and associate producer
Christopher Allen Chris@FunSimcha.com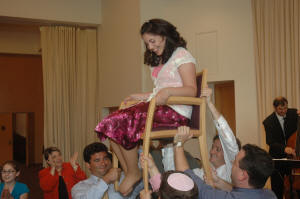 .
The successful party producer is similar to a successful movie producer. No one can remember Eddie Murphy's 2002 flop, "The Adventures of Pluto Nash". Despite its budget of nearly $100 million dollars; it grossed only $4.4 million dollars at the U.S. box office. Compare that to the success of the 2007 runaway hit of "Juno". Its budget was a modest (in to today's movie industry) $6.5 million dollars, but thus far has grossed well over $200 million dollars at the U.S. box office. The end result was an Oscar for Diablo Cody for "Best Screenplay".
A well chosen party professional, will help you write your perfect script and play out the perfect success for your event, so you can rejoice in the day and concentrate on being a great host.
I recently performed at a Bat Mitzvah reception where the father fumbled around with a computer, a projector, a screen, and his daughter's slide show for 2 hours. His stress level caused him to breakout in a visible sweat. He barely had a chance to eat his meal, let alone schmooze with his guests. He easily could have hired a professional for a reasonable rate, but had not anticipated the potential problems. I really felt bad that he missed so much of his own simcha.
There is great value in hiring a professional to do what you can not do as well:
Sometimes it's nice to have an expert you can call up and get advice from, about the features of one banquet facility over another.
Often there is greater value in a professional who can bridge the gap between the needs of the parents and that of the teen.
Themes
Creating your "perfect masterpiece" normally uses the perfect blend of what worked for someone else combined with a new twist that reflects your child's personality. The easiest way to differentiate your event from someone else's is to choose a theme for your party.
Theme parties come in all sizes, shapes and colors. Here is a list of interesting ideas:
Astrological
At the Movies
Awards party
Ballet
Baseball
Basketball
Beach party
Board games
Books
Brazilian carnival
Butterflies
Carnival
Casino night
Cirque du Soleil
Comedy
Costume Parties
Dance
Decades Dance
Disco Theme
Famous Celebrities
Famous Couples
Fiesta
Football
Futuristic
Garden
Hockey
Hollywood
Israel
Italy
Jewish holidays
Jungle safari
Las Vegas
Mardi Gras
Morocco
Movies
MTV
Music
Musical Instruments
National Parks
Neon
Outer Space
Paris
Renaissance
River Boats
Shopping
Snow
Soccer
Sock Hop
Sports Theme
Star Wars
State Fair
Summer Camp
Surfing
Television
Theater
Torah Stories
Trees
Tropical
Underwater
Zoo


A theme party allows you to package your event in an intriguing way. It gives your party professionals some direction for their creativity, and allows them to blend all the elements of your party: Room décor, invitations, food selections, party favors, and unique ways the DJ can incorporate the theme into the program, all can help make for a more memorable event that no one will ever forget.

. Your Simcha - Creating a Perfect Masterpiece

-by Howard Walstein. Howard has expertise as a parent, a performer, and a planner who has been absorbed in countless events since 1982.