1. Choose your caterer early. Shop immediately after securing your special occasion location to assure availability.
2. Get a recommendation. Ask family and friends to recommend a caterer. If you have attended a wonderful wedding or bar/bat mitzvah, find out who catered it. Event coordinators, DJs, photographers and florists may also be helpful in suggesting a quality catering service.
3. Arrange to meet/taste- Meet prospective caterers to get a sense of whether the caterer's taste and personality suit your own. Prepare for your meetings with the following information: approximate guest count, date and time, banquet-style (buffet or formal sit-down dining) and catering budget. Ask each caterer for references. Get samples of menu items whenever possible. Trust your instincts and make sure you that you will have a good working relationship.
4. Discuss details (Be Very Clear) Caterers will put together proposed menus and estimates of cost. Be clear about your proposed menu; do you have a theme or style at the event that will be reflected in the cuisine? Discuss menu changes with caterers to meet your personal preferences. Take into consideration that some of your guests may have special dietary needs, and be certain to communicate this with your caterer. A great caterer will be ready for any surprise that may surface, but at what cost to you? Ask. Do they have suggestions on serving "kid-friendly" meals and what would those cost? Does the caterer use fresh or frozen food for recipes? Is the produce grown locally? Is it organic? Will any of the dishes be pre-made and then frozen until the party/event? Does anything come from a can? Inquire where they are cooking the food (only a health inspected kitchen is legal) and if you can see the kitchen. What happens to the leftovers? Often, upon request, most catering services will compile a food basket at no additional charge for the host or hostess of the event. Food rescue organizations like America's Second Harvest work to get perishable foods to hunger-relief programs. www.secondharvest.com
Photos courtesy of Sue Lund Photography Food prepared by Newkirk Catering Inc.
Copyright Notice 2008, FunSimcha.com. All rights reserved. This material may not be reproduced in any form without permission.

5. Ask & Verify - Ask each caterer if they are insured. Find out whether the caterer is "serve safe" certified or if they carry a food manager's certificate for sanitation purposes. Ask to see their occupational license, certification and insurance documents.
6. Clarify Final Detailed Proposal Proposals are presented on a price per guest basis. The proposal should include information regarding service, table settings, decor, entertainment and other extras. Clarify with the caterer what is and is not included. Does the potential caterer supply beverage service, decorations, linens, tables & chairs? Will they serve wine, is there a bottle opening charge? Make sure you know who will provide the china and silverware. Ask to see the dinnerware that will be used so you are assured it isn't worn or chipped, and to verify the size of the plate (lunch vs dinner size), and find out if it's included in the catering price. Will the catering company provide a wait-staff? What is their required dress code? What is the ratio of servers to guests? Be certain to ask your potential caterer if taxes and gratuities are included in the final bid.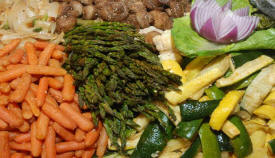 7. Compare – When looking at proposal pricing, be sure to compare similar menus and services.
8. Finalize the terms - After selecting a caterer, meet with the caterer again to nail down details and sign a contract. Generally, a 50% deposit is required with the reservation and the balance due just before the event.
Make certain you know the deadline for providing the number of guests. Then be sure to mark your calendar a day or two in advance of that date, so that your change in number cannot be disputed (assuming you call before the deadline.)
9. Follow up a week before your event for any last minute changes and final confirmations.
10. Now relax – Don't try to micro-manage your event. Trust that your catering professional will provide fine food, professional service and a smooth running simcha.