Over the years performer & owner of Total Entertainment Productions, Howard Walstein, has made many observations on what makes a party successful -- or not.
A party closely reflects the personality of the family, and the guest of honor. A shy kid will normally have a more subdued party than a more outgoing kid - unless an exciting entertainer is hired to encourage and ignite the action. To compound to this challenge may be parents who are not social butterflies by nature either, who prefer to step back and draw little attention to themselves. I try to guide these families to extend themselves and expand their comfort zone. Occasionally, I counsel a Bar/Bat Mitzvah that even though they might not like a specific contest or song, if many of their guests have that request, they might consider allowing it-- to be a gracious host. In these cases it is helpful to reassure the guest of honor, that s/he will not be brought into the limelight during such times. In situations of a shy kid or family,
a talented DJ is priceless; He or she is a counselor, a professional party planner, a party host, and a party regulator.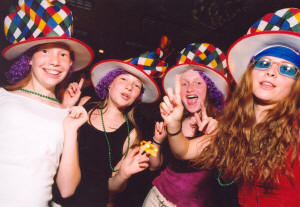 The archenemy of any great party is boredom.
No kid will ever leave your party early if the food or venue is not to his liking or that you didn't hire the "Dip N Dots guy."
There are two types of entertainment, Passive Entertainment and Dynamic Entertainment:
1. Passive Entertainment is a great way to embellish a theme, to set a fun tone, and a unique way to make guests feel welcomed. It often doubles as an interactive party favor that guests can bring home as a memento of the simcha. Passive Entertainment is a great tool to use during dinner to give "fast eaters" an outlet to have fun, without disturbing the meal for the rest of your guests. It has it's limitations in that it will accommodate only a few guests at a time, and/or occupy kids' attention for a limited amount of time. Choosing the right strategic balance of options can make your party more successful. A button maker, a tattoo artist, a cartoonist, a magician, a jumper, a casino -- are all unique ways to brand your event and help the kids have fun.
2. Dynamic Entertainment is crucial to the success of your event. A successful entertainer has a "bag of tricks" that will be unveiled when the occasion calls for it. There is no better emcee for a simcha than an experienced DJ, to promote energy and excitement at your event. Talented professionals who excel at their craft, accomplishing the following: They... a.) set the tone for the festivities, b.) provide ice breaker games to warm up your group, c.) have the skill to encourage those less inclined to participate to "jump in," d.) possess the knowledge, stamina, and skill to keep the party snowballing, and e.) know how to stage an emotional, dramatic finish.
There are no "bad groups", only unprepared entertainers.

Often, when discussing a party with one of my competitors, he says, "I had such a bad group last night."

I believe a great entertainer is prepared for anything and everything.

Success is no accident!
When you pay me to do your event, you are paying me for thirty years -- and four hours.

It may seem like a stretch to compare me with the airline pilot who you would prefer to have fly your next flight, but certainly when you consider the significant nature of your event, it is definitely comforting to have confidence in the captain you have chosen to manage the festivities.






Copyright Notice 2008, FunSimcha.com.
All rights reserved. This material may not be reproduced in any form without permission.
A great party ignites quickly,
burns brightly, & then engulfs it's participants in a great whoosh of energy. It's like a very fun & thrilling dream you have one night – it gets everyone's heart racing & warms the soul with great emotion

.

Truly memorable parties have a wonderful flow to them. "Momentum", is that wonderful quality that brings the party over the top. When planning the evenings events, consider how each element will be perceived by all of your guests. Consider obstacles that may prevent your party from taking flight. The most incredible

parties get started great guns & the excitement doesn't stop till the parents have to come inside to retrieve the kids. Some never click because of an "emotional late start". An unprepared, long winded speech, a slow caterer who doesn't serve the food promptly, or an improperly produced video that is too long and loses everyone's interest -- may all be factors that contribute to a party not taking off sooner. Some parties fizzle-out -- a request list of unpopular songs, a deejay that's too loud and chases all the adults out of the room, a band that has limited musical choices, an inexperienced entertainer who doesn't have the skills to work the room, or an unsupervised event where kids are allowed to roam or get in trouble outside the banquet room - these may all limit success.

Better be sure to motivate.

In a video game age, where multi-media are coming to them from every direction, kids need to be effectively entertained. Kids of all ages are sophisticated, they are looking for the "wow factor" that grabs their attention and doesn't let them go. Providing prizes to encourage participation is the best way to motivate partiers, by helping to focus attention and energy on the dance floor when desired. Providing dancers at your party, can help make the dance floor more inviting to your guests. Dancers help instruct guests who have limited dance experience and challenge experienced dancers to show-off their skills for all to watch.

Different isn't always better

.

In most cases, it is more successful to have an experienced simcha DJ do "something different" than they did at the last event, than to start looking for a different entertainer. Many people will go out of their way to find something new. If an entertainer has not performed at many B'nai Mitzvah receptions, there is probably a good reason. Recently, I heard about a family spending an exorbitant rate, flying a DJ production company in from Boca Raton, to do a Bar Mitzvah reception here -- only to have the evening fizzle-out. What worked in Florida, did not necessarily translate to a Twin Cities audience!

A proficient entertainer knows how to maximize the moment.

Planning an exciting event has nothing to do with good luck. It has everything to do with choosing a performer, who has the confidence and ability to persist -- keeping the energy flowing no matter what. There have been some challenging times over the years, (e.g. when the power has gone out at a party due to an electrical storm,) but my DJs and I have continued parties without missing a beat. I believe dedication and commitment have no equal. My colleague in Nashville uses the line "We're serious about having fun." Exceptional DJs demonstrate this sentiment by attending regional and national seminars, to learn what other successful DJs are doing. Every few years I, personally, go back to classes to hone my performing skills. I do this to help re-invent myself and develop strategies to reach a new generation of B'nai Mitzvah.

Howard Walstein is the creator of the Total Entertainment interactive format. He's been warm-up DJ for Chuck Berry as well as Chubby Checker. He's been featured as a "DJ All Star" in the national publication of "Mobile Beat Magazine". His company Kidsdance DJs has been voted "Most Favorite Entertainment" by readers of "Minnesota Parent Magazine". Since 1982, Howard has performed at nearly 2,000 B'nai Mitzvah receptions. He has taught Bar/Bat Mitzvah reception performing tips at a national Las Vegas convention of mobile entertainers, and has appeared on a Bar/Bat Mitzvah panel for DJs at a Chicago seminar.

To receive a list of
"Five Tips on How to Have a Better Bar/Bat Mitzvah Reception" call Howard
952-933-8558 1-888-38-DANCE or e-mail TotalE4U@aol.com
TotalEntertainmentDJ.com


Photos courtesy of Total Entertainment,
website produced by Total Entertainment Web Productions webmaster and associate producer
Christopher Allen Chris@FunSimcha.com